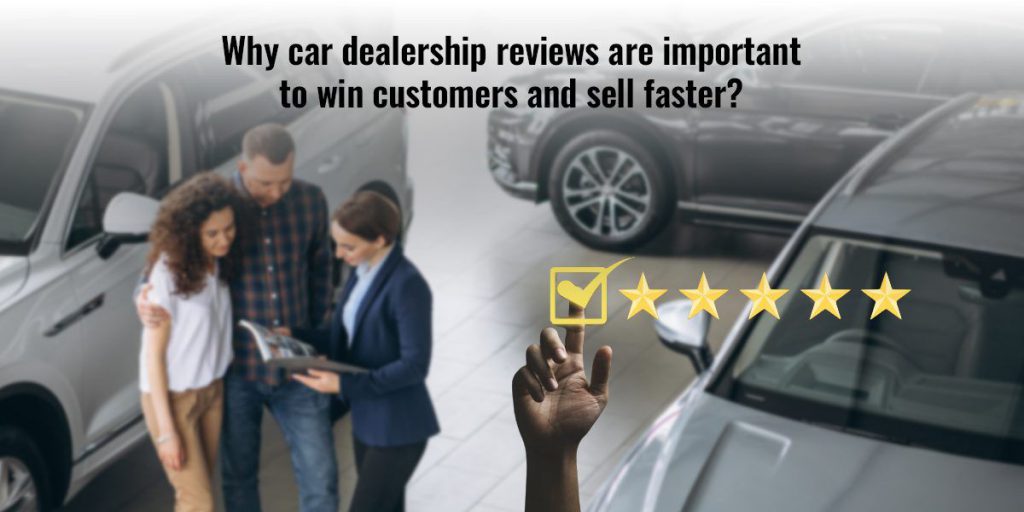 Customers will read an average of ten reviews regarding your dealership, and positive internet reviews are almost necessary to entice younger customers. To raise consumers' knowledge of their brands, car dealerships are turning to digital marketing strategies, including email marketing, digital advertising, social marketing, and online content. Because prospective car buyers are doing more research online and talking to their social peers before deciding whether or not to visit a dealership, internet reviews may be pretty valuable. But when it comes to the ultimate choice of which dealership to visit, strong internet reviews might be the decisive factor in tilting the balance in your favour and making the selection easier. To help you with customer reviews, we offer a review saver app that allows you to take reviews from customers and publish that over social media. Car dealership businesses can use the Simple Dealer Suite's 
review saver software
 to save and publish video reviews in no time and effort.
HERE IS HOW CAR DEALERSHIP REVIEWS HELP YOU WIN CUSTOMERS AND SELL FASTER
1. PROVIDE REMARKABLE EXPERIENCES TO YOUR CUSTOMERS:
This is, of course, the golden rule regarding obtaining glowing reviews. Customers increasingly turn to their digital relationships when purchasing goods and services. Because there are fewer opportunities for human connection, ensuring that the experience is optimized across all digital platforms is critical. Customers anticipate having a consistent experience regardless of whether they are interacting with your business in-person, over the phone, or via your website and dealership.
When you finally manage to bring a client into your dealership, you need to ensure that they have a five-star experience with your customer service so that they will leave raving reviews. The results of a poll conducted by American Express indicated that satisfied consumers informed an average of nine other people about their positive experiences when the service they received was exceptional.
2. HELPS YOU MAKE A CONNECTION WITH CUSTOMER:
While dissatisfied customers can't wait to post a bad review, pleased customers may need a little bit of encouragement before writing one themselves. You have to post fifty-two percent of dealer reviews on Tuesdays, Wednesdays, and Thursdays between the hours of ten in the morning and four in the afternoon. Sending out requests for reviews to coincide with these high-traffic times is a brilliant idea, given that customers are more likely to post ratings and reviews at these intervals.
A polite request at these moments will boost the odds of collecting more reviews since happy customers are less likely to post a review than disappointed customers. Having a good relationship with your customer means having good word of mouth. It will eventually lead to more leads and customers.
3. MAKE A RESPONSE TO THE REVIEWS TO MAKE A POSITIVE BRAND IMAGE:
Companies that take the time to react have far more significant response rates and significantly higher levels of engagement. You need to do more than just create, edit, and post the reviews on social media. Your team must also engage with customers and show thankfulness for their reviews. This will help you establish a positive image of your dealership, and customers will make an effort to visit your showroom.
4. YOU WILL GET A CHANCE TO REPLY TO NEGATIVE REVIEWS:
Be prepared to respond to clients' reviews about your business since you won't be able to satisfy every one of them at all times. Customers who have had a negative experience want to be heard, and prompt care is necessary to limit the amount of harm done. Watch rating and review sites and social networks, particularly over the weekend. After a horrible weekend experience, customers are 19 percent more likely to write negative reviews on a Saturday, Sunday, or Monday. You don't want these complaints to go through the cracks. Keep in mind that customers will not only pay attention to favourable reviews but also to bad reviews to determine how the issue was resolved.
5. IT WILL HELP YOU ESTABLISH A PROCEDURE FOR THE MANAGEMENT OF ONLINE REVIEWS:
Because customers have easy access to dealership review sites, you must ensure that you have a strategy to monitor areas that third parties run. You need to keep a close eye on various websites, including Google+, Cars.com, DealerRater.com, and Edmunds.com, to mention just a few available options. You may also decide to use dealer review monitoring services to assist you in keeping track of each of these websites. To protect your reputation, you should make it a point to stay current on what customers are saying.
CONCLUSION
The level of satisfaction that a dealership's customers report may determine the business's level of success. The reviews and ratings customers leave for your dealership online significantly influence. And by doing so, you may advertise your reviews to acquire additional appointments and potential sales, promoting the outstanding job that you have done in the past. Make sure you are not disregarding this critical technique to foster your company's growth and expand the scope of your consumer base.
After putting in a lot of effort to win over individuals in your market, you shouldn't let them leave. You can keep your clients interested in your business by sending them e-newsletters and discounts, and you can even give them tours of your service department to make them feel more at ease.
It is essential to keep in mind that dominating the market in which your car dealership company operates is not a one-time event. To maintain your position at the top, you must use a customized review saver app like ours. Our review saver software is specially curated for car dealership businesses looking to use customer reviews more effectively. Contact us now for a free demo!